Factory Authorized Carrier Dealer
Serving Orange County Since 1980




Carbon Monoxide (CO) Alarm
The Carrier CO Alarm Provides Peace of Mind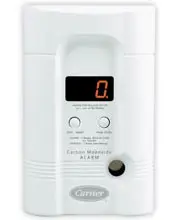 The Carrier Carbon Monoxide Alarm uses sophisticated electronics and unmatched sensor technology to detect and record the levels of CO circulating in your indoor air. You can monitor the current CO level in your home on a large, easy-to-read digital display. When dangerous levels of CO are present, a loud, audible alarm alerts you and your family automatically.
Technical Specifications
Reviews
"I want to thank the entire team at Alicia Air for all of their hard work. The professionalism of each member is unequal. From their knowledge of the products and help in selecting the one just right for us to the flexibility in scheduling the necessary work, everyone has been outstanding . . .